Upgrading the underwater lighting in your pool is easy. Typically, you should expect to be able to use existing wiring that is already in place - thus eliminating the need to drain the pool or dig a trench to lay new wiring. The only small caveat to this may be if the original installer fails to install a sufficient length of cable behind the light to allow for easy splicing later.
There are two types of pool lights.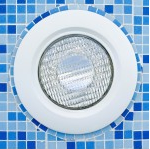 Flush lights – these are housed in, and lie flush with, the swimming pool wall so that only the face-plate of the light is exposed. Generally, flush lights tend to cast a narrower spread of light than Surface lights.
Swimming Pool Surface Mounted Light

Surface lights – these protrude from the pool wall and are mounted on a bracket. Different brands protrude more than others. Although they may, perhaps, look less neat than a Flush light, Surface lights generally cast a broader spread of light.
For upgrading Flush lights, the easiest way to retrofit is to switch from halogen to a version of the same brand of LED light. The reason for this is that each brand comes in different shapes and sizes of housings. Or, another simple solution is to replace the existing recessed lights with LED surface lights.
For upgrading Surface lights, there are many LED retrofit conversion mounting brackets available, often with universal compatibility across multiple brands and multi-voltage compatibility across the 12-32V transformer range used for pool lighting in Australia.
Regulatory Installation Requirements
While DIY guides are available online, it is important to note that you will need to hire a licensed electrician to install the lighting. According to the Electrical Safety Regulations of 2002, it is illegal in all states for unauthorized individuals to perform electrical work on water supply equipment, which includes installing new lights for swimming pools. For complete details, see ESR 2002 Pt.5 s68, and ESR 2013 Pt.6 s72 for Queensland.
In addition, installers need to ensure that the work complies with Australian safety standards - specifically AS/NZ 3000:2007, which specifies the required voltage, IP rating, power connection methods, etc.
Finally, the pool light itself needs to be certified to Australian standards.
Installation Costs
USD symbols will naturally vary in cost depending on the size of the upgrade. And, of course, not all licensed electricians charge the same amount. For the simple retrofit upgrades discussed above, the cost may be around $200 or less. If you're looking for a more elaborate upgrade, the cost of installation could be over $700. So keep that in mind, and be prepared to shop around.