Learn about Exit Signs!
The Many Types of Exit Signs
There are many different types of exit signs available today and choosing the correct model is important for any exit sign project. There are a number of factors to consider when deciding on the type of exit sign to purchase. Price point, application, construction, design appeal, maintenance requirements, lifespan, and installation profile are all important factors to consider when choosing which type of exit sign to install.
LED Exit Sign with Red Letters, White Housing, and Battery Backup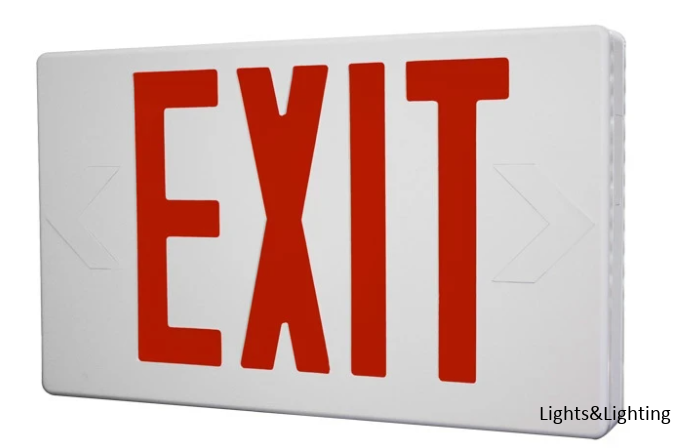 LED Exit Signs are popular because of their low energy consumption, long lifespan, and affordable prices. A variety of styles and designs are available, one of which will work for you.
Indoor exit sign applications feature the widest variety of exit sign choices. The first decision to make is to decide on using an electrical or non-electrical exit sign. Electrical exit signs use LED (light emitting diode) light strips to provide red or green EXIT illumination. Photoluminescent non-electrical exit signs glow in the dark by absorbing light and then glowing in dark conditions. The second type of non-electrical exit sign, called self-luminous, produces EXIT illumination by using a glowing hydrogen gas called tritium.
Non-electrical exit signs are becoming increasingly popular for their ease of installation, long lifespan, and non-existent operating costs. They are especially popular for exit sign applications where electrical power is unavailable. Non-electrical exit signs feature a lifespan of up to 25 years.
Browse our Non-Electrical Exit Signs
LED exit signs are a great choice when electricity is easily accessible. Basic LED exit signs feature a white or black thermoplastic housing and can be used for single or double-sided applications. LED exit signs begin at less than $20 per unit, a tremendous value. All LED exit signs feature a battery backup system that keeps the exit sign on in case of an emergency power outage.
Browse our LED Exit Signs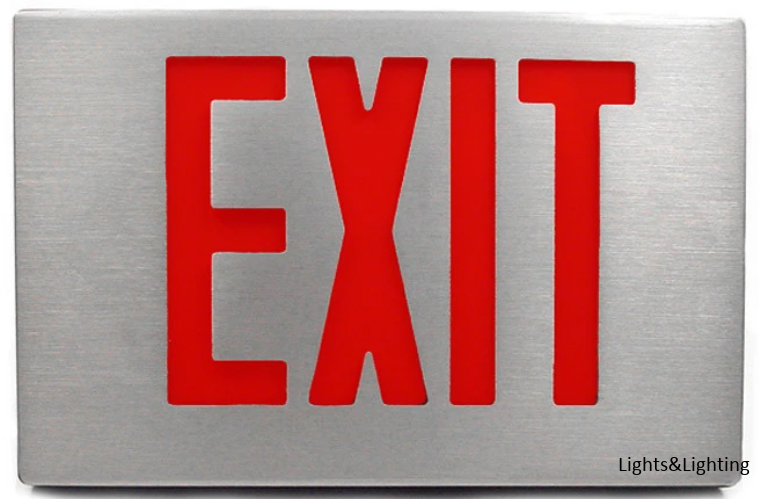 Cast Aluminum Exit Sign
Cast Aluminum Exit Signs are durable and and appealing. We offer a variety of finishes.
Cast aluminum LED exit signs are popular for their brushed finish and durable aluminum housing. They feature the same efficient LED illumination technology as all of our LED exit signs. The housing is available in a white, black, or classic brushed aluminum finish.
Aluminum Exit Sign Information
Egress lighting is required by the National Electrical Code (NEC) in article 700-16. This section speaks of the importance of not only exit signs, but all emergency lighting as well. Considering the importance of these signs, makes it an easy decision to choose a sign that is constructed of a durable material such as aluminum.
Cast Aluminum Construction
Cast aluminum exit signs are durable and since aluminum doesn't rust, resistant to some of the elements. They are tough enough to be placed in abusive environments such as factories, yet can be elegant enough to be installed in fine dining restaurants.
Electrically powered exit lights contain a battery that backs up the main electrical service to a building. This allows them to glow for the additional ninety minutes, after a disruption in electrical service, which is required by article 700 of the National Electrical Code (NEC).
The NEC sets the rules and regulations for any and all electrical installations and provides safe and secure methods for ensuring that 9the electrical worker knows the proper methods of performing certain tasks. The NEC, however, is not the final word on regulations pertaining to electrical work, as local agencies can set their own rules. When a local rule conflicts with the NEC, it is the best practice to abide by the rule that is the stricter of the two.
Aluminum Exit Sign Technology
Some important things to note about aluminum LED exit signs are that they require less and 5 watts of electricity to run with LED technology and have a lifespan expected between 8 to 10 years. Add those features together and compare them to an exit sign that runs on incandescent bulbs and your building has saved thousands of dollars in electricity over the course of the exit signs life span.
Aluminum Exit Signs are durable and and appealing. We offer a variety of finishes.
Light Emitting Diode (LED)
LED technology has been an incredible break through for the design of newer exit signs. Through the use of LEDs, truly elegant and efficient designs have become available. The LED is not much different than an incandescent bulb, however it lacks the filament. LEDs also operate at much cooler temperatures than incandescent bulbs which use electricity flowing across a filament to create heat resulting in a side effect known as light. LED exit sign models are the most popular type of electrical fixture today.
While exit signs are a requirement of all public buildings, with the new designs and technologies, you can see that these signs do not have to remain the mundane signs of yesteryear. From stunning designs involving acrylic panels that are flooded with LED light, to steel signs that are designed for the harshest environments and are deemed explosion proof, exit signs are designed for just about every environment known to man. Since there are so many different types of exit signs available, it is best to consult with both a person familiar with your local building codes as well as a reputable dealer who can best advise you of the options available to you.
Edge Lit Exit Signs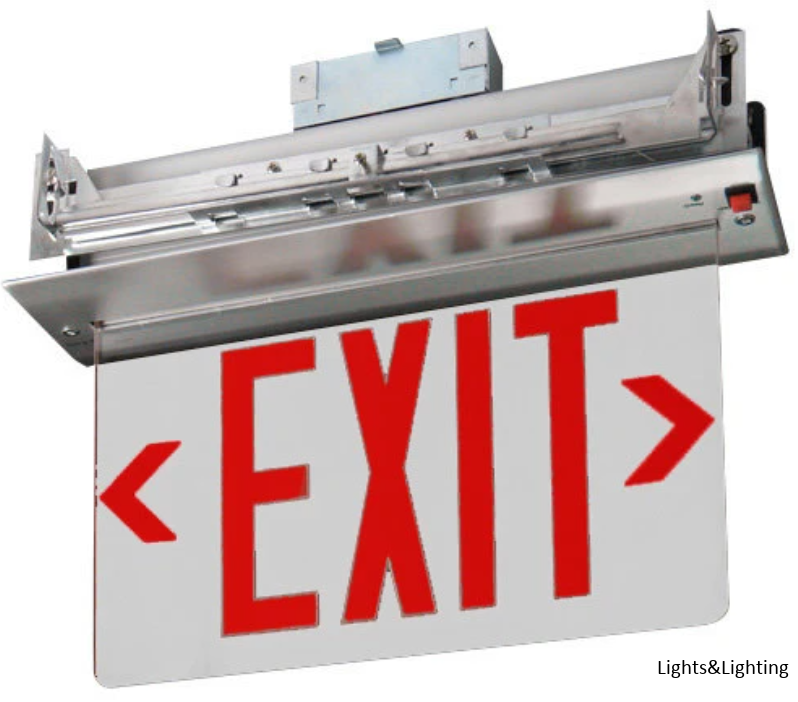 Red Edge Lit LED Exit Sign
Edge-Lit LED Exit Signs offer high-end appeal at affordable prices.
Edge-Lit LED exit signs offer the highest level of design appeal and are the premier choice for indoor exit sign applications. Edge-Lit models feature an aluminum housing that can be surface or recess mounted into ceilings and walls. Recessing the housing provides a seamless look that is unrivaled by any other exit sign available. A high-grade acrylic panel attaches to the housing and features a red or green screen-printed "EXIT". LEDs inside the housing provide illumination that creates a glowing effect for the EXIT panel.
If your exit application is outdoors, you can choose between a wet location rated LED exit sign and a self-luminous exit sign. Wet location rated LED exit signs feature a sealed fiberglass housing that can withstand rain, sleet, snow, and other airborne particles such as dust that might come in contact with the exit sign. These exit signs can be outfitted with and internal heater that insures the battery backup system will function in freezing environments.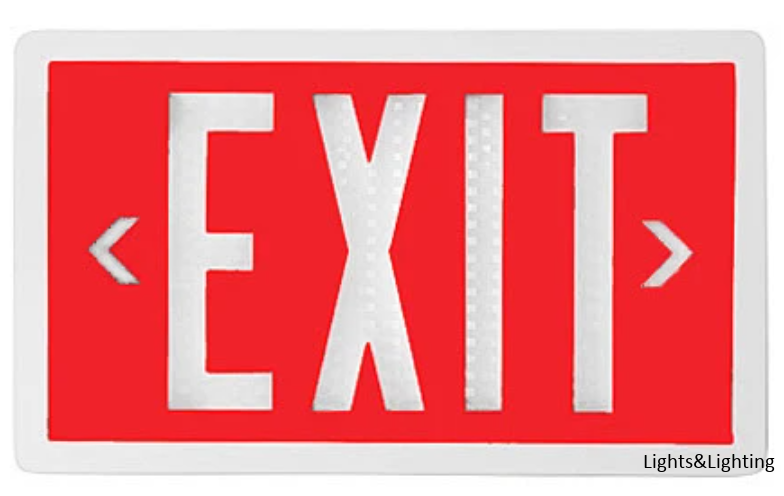 Self-Luminous Exit Signs
Self-luminous exit signs require no electricity or batteries. Lasting up to 20 years, they are a simple and compliant battery exit sign solution.
Self-luminous exit signs are the second option for outdoor applications. Since they are self-powered by tritium gas, they can be used outdoors and can stand up to extremely harsh environments. They are an attractive option for outdoor exit sign applications because they install in minutes and do not have a battery backup system to maintain and there are no testing or maintenance requirements. Self-luminous exit signs have become the most popular choice for outdoor exit sign applications in recent times.