LED Flood Light IP66 50-600W Module Stadium light parameter:
Power
Lumen
DIM
Product Size
50W
>120lm/w
N
295X70X138mm
100W
N
295X70X268mm
150W
N
298X73X378mm
200W
N
298X73X490mm
300W
N
573X73X378mm
400W
N
573X73X490mm
500W
N
573X73X600mm
600W
N
573X73X710mm

Most High bay lights are IP20 on the market. Some end users always find water, dust or insects come inside of it, which influence the life time greatly.

Luckily, Lights&Lighting new D series LED high bay light can solve this problem. Its IP rating can reach to IP65, which is tested by professional waterproof test machine under a hot state 24 hours. No mater dust, insect, water, nothing can come inside of it.
Sounds awesome, right?
That`s not all!
All in One Design - Simple design make it easy to handle, install and maintain.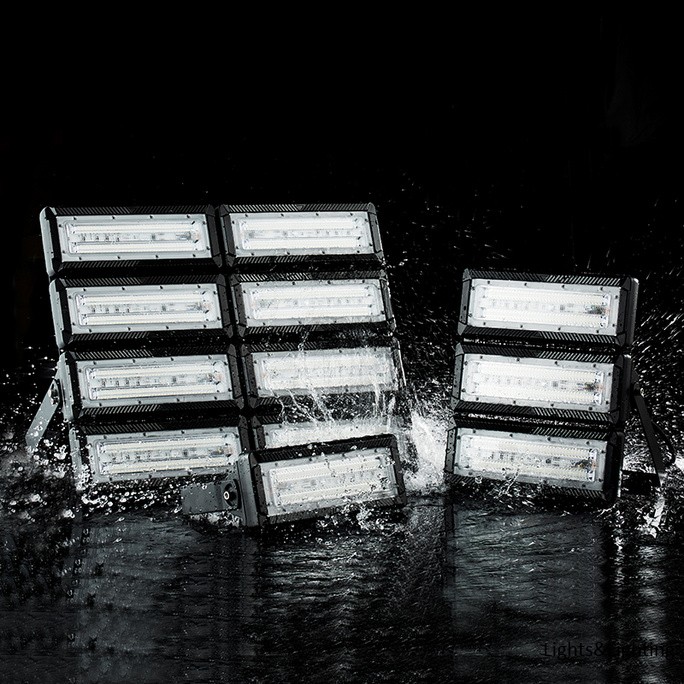 They excel -- AL6060 Aluminium Material with 170-230 W/(M.K) High Thermal Conductivity and Scale-Design Cooling finsenlarge the heat radiating area ensure a better heat dissipation. Why we are so confident about it? Eg. It's tested under extreme temperature machine under -50℃-80℃ to ensure It work properlyaging test,we also do temperature detection of important part of lamp, such as led chip, inductance, MOSFET, lamp body and so on. Lights&Lighting D series Good anti-corrosion coating which can past 24 hours salty spray test allow the product working well in the coast cities. Well control of the light temperature and anti-corrosion painting guarantee the long life span (30000 Hrs).
Energy Efficiency and Brightness -- 100W 150W and 200W different powers are for you to choose. These lights operate at anenergy-efficiency of 100lm/W tested by goniophotometer at our dark room. Comparing to the old traditional one it can save energy up to 70%.
Lighting Effect -- High CRI and R9> 0 (tested by voltage sphere) can make the subject under light more colorful andshow Outdoor lights are for external occasions as parking lot,street,plaza and etc. We highly recommend Lights&Lighting M series Module flood light.
And the key points for choosing outdoor lamp please check as below.
IP rate -- To compete with normal IP65 lamp,our outdoor lamp is IP66 rated.Inside professional structure makes the lightwaterproof and dust-proof.
Lumen -- High power outdoor lamps require higher requirements for Lumen than others.This type of Luminaire REACHES 100LM /W.
Temperature -- For outdoor light, Temperature is the key point to its lifetime.Under -45℃- and up to 80℃ testing,ourwaterproof LED light can work well.It is flexible under the hot and cold conditions.
The Salt spray test -- From screw,housing,lens to inside components,tests in the Salt spray machine for 24 hours are the criticalfactor to ensure each part is working properly.
Torque testing -- The power cord is qualified according to IEC60598-2-1 standard and strong enough for installation underany height.
IK Rate -- IK08 makes the light and package be qualified for lamp body and package standard.
Dark Room -- As it is well known that high power luminaire is mainly for projects,not only items needed,also we have toGuide clients in a professional way.That's why we have darkroom to simulate the lights required.
Waterproof -- Waterproof we also have to offer clients more convenience.
We need the brightness to light up the way home,the way to grow and the way to soul.Our commission is to make your life brighter and purer.
Love life,love Lights&Lighting module waterproof luminaire.
How Lights&Lighting support?
1-Unique design-Opening our mould & Offering competitive price.
2-Marketing support-Varieties of promotion gifts provided.
3-Showroom support-Design& decoration support
4-Exhibition - Design&samples
5-Unique packing design
LED Flood Light IP66 50-600W Module Stadium light
If you are new to the lighting industry, don't worry, we are here guiding you step by step.
If you are a long time in the lighting industry, let's become stronger and stronger together.
Welcome to join Lights&Lighting family.the true color. With this feature, Lights&Lighting UFOs can use in the supermarket, restaurant and make the goods more attractive.
Cost -- All the components are made by us except the screw and led chips. We have a goods control of the Cost.
Certificate -- This light is CE and RoHS- Certified and come with 2 year warranty. If there is other Certificaterequirement in your country, we can also offer accordingly.
Service: We also offer IES file for clients who doing project so that you can simulate the real lighting environment for the project and reach to the international standard.
Using Lights&Lighting D Series IP65 High Bay Light, you'll enjoy a convenient, efficient, powerful,durable and widely used industrial and commercial lighting.