Type:

Anti-glare Tri-proof Light
Feature:

Anti-corrosion, Dust-Proof, Waterproof
Specification:/dt>

0.6m, 1.2m, 1.5m
IP65 Waterproof Lighting Fixture,LED Tri-Proof Light,Vapor Tight Light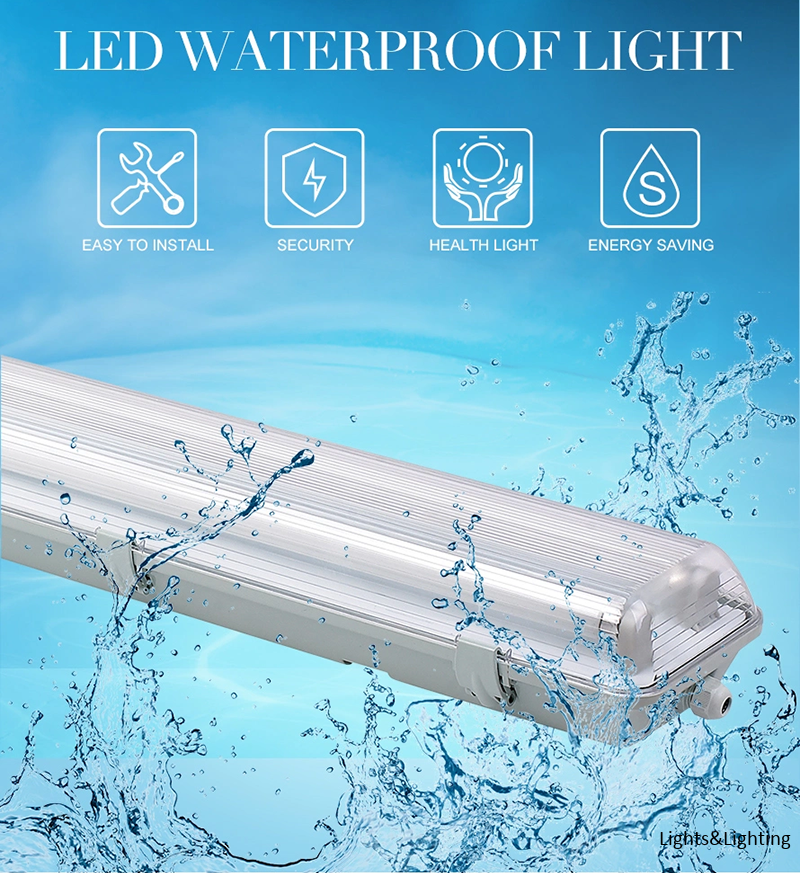 IP65 Waterproof Lighting Fixture,LED Tri-Proof Light,Vapor Tight Light Advantage
Thanks to its impressive IK10 impact resistance and IP65 waterproof ratings, this robust luminaire is perfect for a wide range of industrial and commercial applications. Highly resistant to liquid, vapour, dust, corrosion and pressure, this LED is more than suitable for use in exposed exterior locations as well as harsh and demanding operating environments. This is an ideal lighting solution for small to medium sized areas, with a recommended installation height of between 2-8 meters. Applicable for factories, warehousgs, parking. lot, bus and train stations, airports, stairwells,or supermarkets, etc.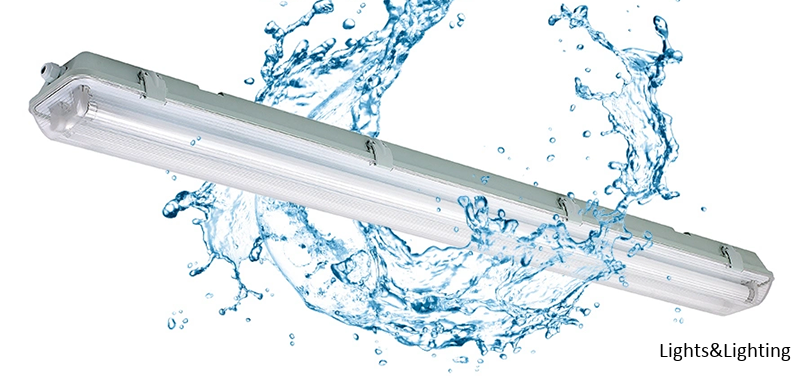 IP65 Waterproof Light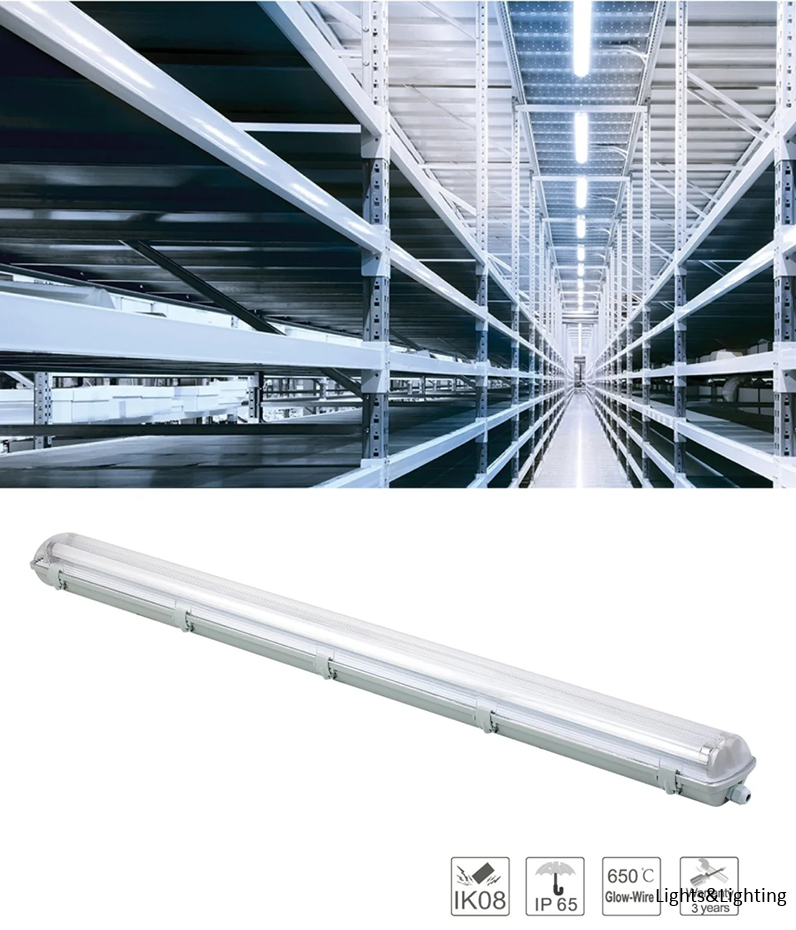 IP65 Waterproof Lighting Fixture,LED Tri-Proof Light,Vapor Tight Light Features:
The gear tray was univesal for T8 and T5.Customer can change the tube easily and the whole seller can save the storage.
Luminaire Housing: Made by injection mould of polycarbonate or ABS. Stable and protected UV radiations with high stability and mechanical resistance. Finished in grey color with efficient silicon gasket seal to achieve IP65 protection rating.
Reflecting plate: Made of steel, white painted phosphated treatment of the surface. Hanging system reflector is included on the luminaire.
Diffuser: Made of polycarbonate by injection mould with clear prismatic and internal longitudinal strips. UV protected.
IP65 Waterproof Cable Gland
* Body Nylon PA6
* PG11, 16A,450V,0.75-1.5mm2
The mounting bracket with adjustable design,
The luminaire easy to install.
Fire protection
* V2 fire rating,
* V2 Self-extinguishing
* Anti-corrosion level F2
*PC material V2 fire rating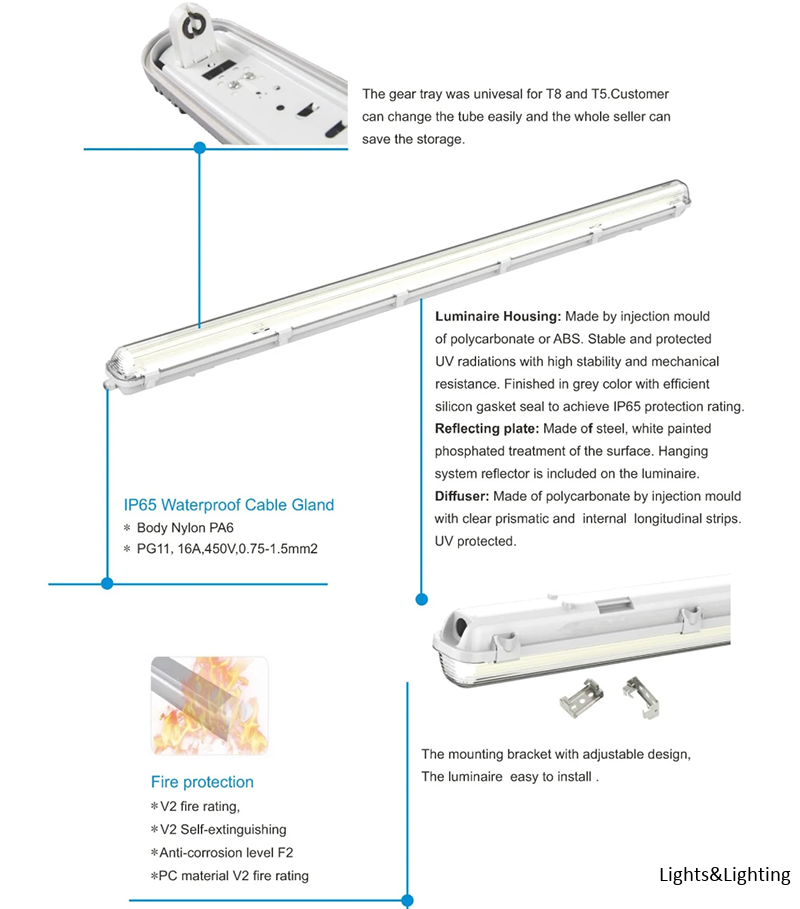 IP65 Waterproof Lighting Fixture,LED Tri-Proof Light,Vapor Tight Light Dimension:

IP65 Waterproof Lighting Fixture,LED Tri-Proof Light,Vapor Tight Light Parameter:
Size /Power:
109=0.6M Single Tube, 9W;
209=0.6M Double Tube, 9W;
118=1.2M Single Tube, 18W;
21 8=1.2M Double Tube, 1 8W;
124=1.5M Single Tube, 24W;
224=1.5M Double Tube, 24W;

IP65 Waterproof Lighting Fixture,LED Tri-Proof Light,Vapor Tight Light Package Information: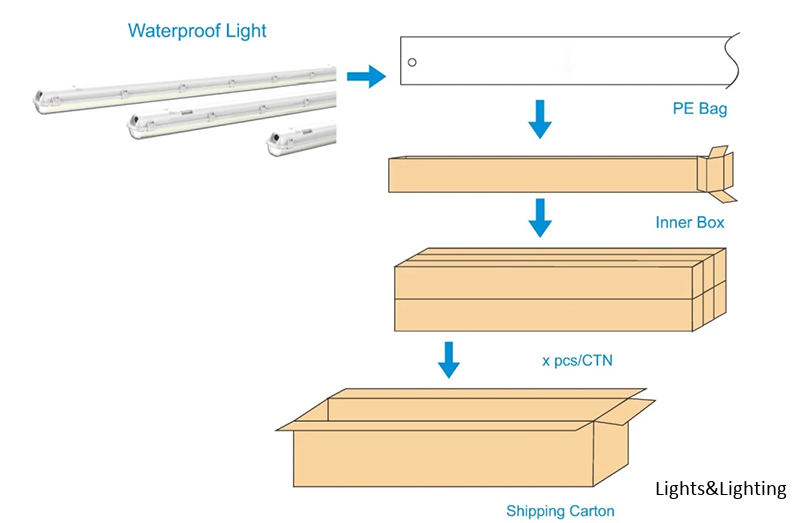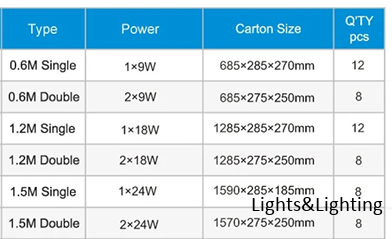 IP65 Waterproof Lighting Fixture,LED Tri-Proof Light,Vapor Tight Light Installation Diagram:
1. Keep power switches off.
2.Drill 2pcs 6 mm holes according to below the cutting size instructed.
3. Put plastic Expansion tube into the cutting holes .
4. Lock the claps onto the ceiling with self-taping screws.
5. Put the lamp into the claps properly.
6. At the rear side of the LED fixture,please connect the live(L) and Neutral(N) terminal, used for connecting to power output.Pleaese follow the standard process to connect them accordingly and do insulation on both terminal respectively.
Suspension installation
Fix the hanging line on the ceiling.
➊Connect triangle hook with mounting bracket.
❷Then connect the triangle hook with chains.
❸Finally connect lamp with mounting bracket.
NOTE:
1.After installation,check to ensure a tightly connection.
2.Check to ensure right connection of ACL and ACN terminal.
3.Check to ensure all the screw fixed good.
Instructions
To ease the installation process and ensure the optimal performance of the product,Carry out the installation procedure in compliance with the following safety regulations.
●Unpack carefully and ensure there is no product during shipping. Should the product be found damaged during shipping.please return it to your supplier.
●Unless otherwise spesified,never connect the device with any dimmer switch.
●All the electrical wiring necessary for the proper nstallation of the LED Waterproof Light is supposed to be conducted by qulified personnel to prevent to prevent electric shockor product damage.
●Avoid humidity.Should the LED Waterproof Light be moistened by any liquid or fluid that may conduct electricity,immediately disconnect it from the power source.
●In case of a malfunction,turn off the power source immediately. Never try to repqir the LED Waterproof Light by yourself shich may cause serious damage and void your warranty.Instead,contact your local dealer for thchnical assistance.
●Please recycle the package.
Lamp
●Never touch the luminaire when it turns on or gets hot.
Unless otherwise specified,.never use LED luminaires in humid environments.
●Appropriate ambient temperature:-20 to 40C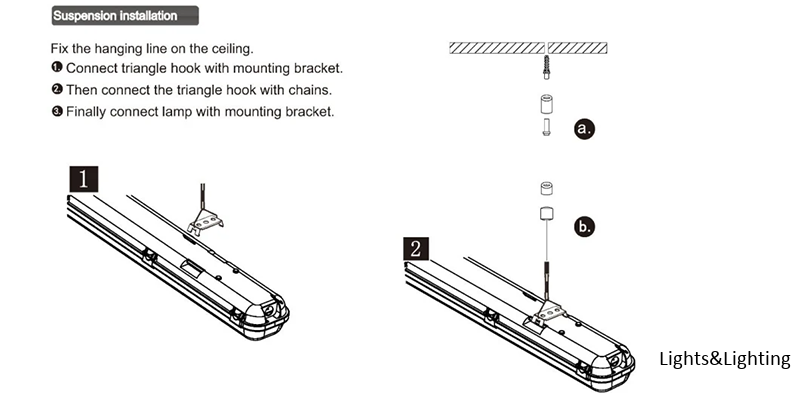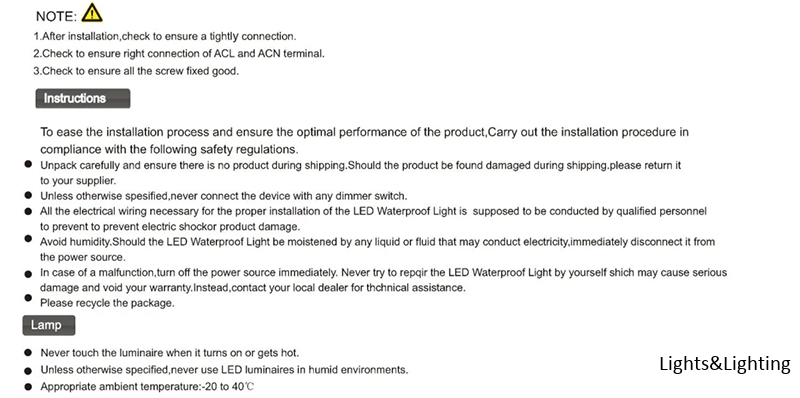 Special Note:
Operation Instruction:
■Before installing the lighting fixtures, please read this instruction manual carefully.
■The lighting fixtures should be installed, connected and tested by a certified installer based on the local regulations.
■Lamps should always be installed or replaced with care.
■Please check the local voltage in accordance with the product requirements before using The product.
■Relamping only can be done when the power is 0 ffand the lamp is completely cooled
down.
■When a lamp is to be cleaned, make the power 0 fand let it cool down completely.Clean The fixture with a soft cloth and a standard PH neutral detergent.
■Misuse of, or changes to the fixture shall nullify the guarantee.
■Don't cover the fixtures with flammable materials.
■Exclusively replaced by the manufacturer or his service agent or the similar qualified person in order to avoid a hazard.
※Warning : Any non-professionals are not allowed to disassemble the lamp.
※This specification is for reference only,we reserve the right to change without notice.