Material:

Aluminum
Bulb Type:

LED, 12PCS White LED
Battery Type:/dt>

4.8V Ni-CD or Ni-MH
Self-Test LED Emergency Exit Signs Basic Info.:
Input Voltage
230V AC 50/60Hz or 230 AC/DC with Centralized
Charging Type
Rechargeable
Power
≤5W
Emergency Time
1-3h
Installation Mode
Wall\Ceiling\ and Outrigger Mounting
Operation Mode
Non-Maintained, Maintained or Central Battery
Transport Package
Color Box
Specification
300x55x238mm
Origin
Cn
HS Code
9405600000
Self-Test LED Emergency Exit Signs Specifications: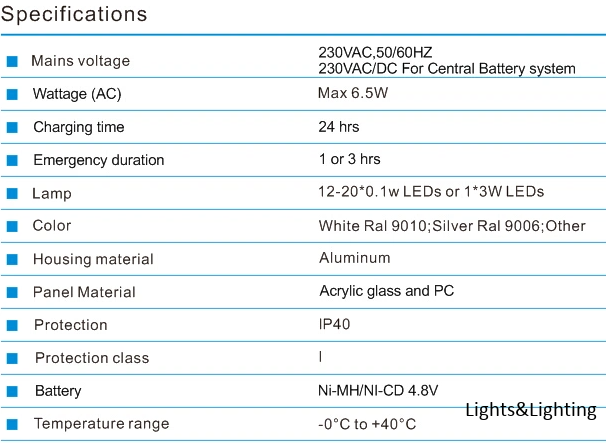 Self-Test LED Emergency Exit Signs Description:
Lights&Lighting Escape sign luminaire in architectural design with high quality acrylic glass for high performance. Use much more modern, presentative constructions, for example, banks, offices , hospitals , museums...
All mounting options are possible. The lamp is characterized by its high luminosity and good Recognizable at a distance. The design light can also be used as an indicator light , such as with engraved and colored fonts or symbols on clear acrylic glass , what the interior design benefits .
The terminals are designed for through wiring up to 2.5 mm ². The lamp is available as a wall , ceiling ,
chain , pendant , rope , ceiling mounting and bracket mounting for single-sided or two- sided labeling.
Construction according to DIN ISO 7010 2012 , EN 1838 and EN 60598-2-22 . This lamp is for Available
group / central battery systems as well as emergency lighting.
.Self test technology to automatically carry out regular testing of the Complete fitting, which saves
effort and cost by avoiding the need to manually carry out the Mandatory testing of emergency luminaires.
and is available with DALI versions.
.Probably the fastest emergency luminaire to mount.
.Source LED (low power consumption and long life of approximately 50,000 hours)
.Aluminum profile with silkscreen.
.Single model for Wall,Ceiling,Outrigger and Pendulum mounting.
.Available in various mounting options.
.Universal pictogram included.
.Optional: Remotely controlled (infrared) At the touch of a button (no need for tools or a ladder).
.TEST button and LEDs indicating both presence of power supply and signaling failures.
.Available in 4 sizes (Viewing distance 20M,25M ,32M ,40M).
Interchangeable,all standard pictographs included.